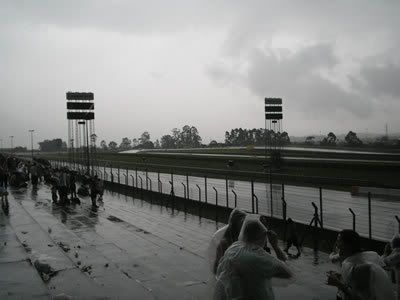 Domingo em Curitiba, nunca vi algo que lembrasse tanto a expressão "chover canivete". As fotos foram tiradas antes e depois do toró que caiu logo antes da segunda corrida do WTCC, apenas 30 minutos entre uma foto e outra. O que não fazem os loucos pelo automobilismo...
No campo virtual, os trabalhos foram resumidos em Sakhir, que entrou na demorada mas necessária fase de revisão, e uma nova versão de Magny-Cours está em testes na tentativa de solucionar o problema que houve com algumas placas de vídeo mais novas.
Sunday at Curitiba, the pictures don't show it, but it rained cats, dogs, mice and all animals alike. Photos were taken 30 minutes apart, before and after the heavy rain that fell on the circuit just before the second WTCC race. Now I can surely say that there are people crazy for motor racing...
On the virtual side, Sakhir is back on track, now on the looooong checking stage to make sure everything's fine, and a new Magny-Cours version is being tested in an attempt to eliminate the problem with some newer video cards.