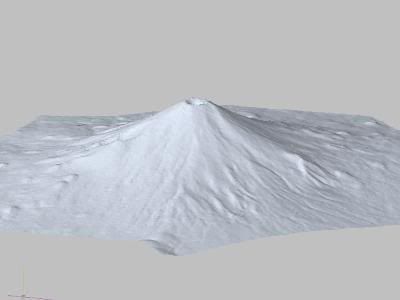 Mais uma experiência maluca. Um modelo 3D do Monte Fuji, retirado de dados SRTM (dados de satélite da NASA) e transformado em 3D com um algoritmo Triangulação de Delaunay. Um monte de conceitos que talvez não façam diferença nenhuma para o leitor.
No final, isso servirá de base para avaliar se objetos grandes e distantes como esse ficam melhores representados em 3D ou em 2D com uma textura simples.
Another crazy experiment. A 3D model of Mount Fuji, taken from SRTM (NASA Shuttle Radar Topographic Mission) data and taken into 3D using a Delaunay Triangulation algorithm. Some concepts that may not matter at all for the reader.
Eventually, this will be used to evaluate if large and distant objects like this are better in 3D, or in 2D using a single texture.