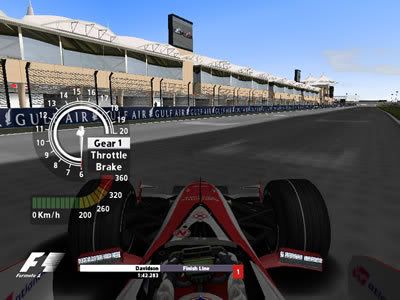 Enquanto o Gildoorf fez a parte visível (e bonita) de Sakhir, eu me oculto nos detalhes que só se percebem quando algo está errado! Depois de umas poucas horas perdidas consertando um inesperado bug no prédio dos pits, voltei para a parte visível com estes pequenos detalhes do lado de fora das garagens e com as imagens estáticas dos telões (compare os pits com as fotos de uma semana atrás). A 300 km/h ninguém presta atenção nisso, mas não dá pra negar que a arquibancada principal faz uma bela sombra.
Na minha humilde opinião, o trabalho que o PrBlanco realizou e está realizando pra este projeto é digno do prêmio Paciência 2008! Incrível a qualidade dos detalhes e é estimulante a dedicação dele nesse caso em particular (gildoorf).
While Gildoorf made the visible (and beautiful) sections of Sakhir, I hide myself in the details that people only see when something's wrong! After wasting some hours fixing an unexpected bug in the pit building, I went back to the visible section with these small details outside the garages and the static videowall images (compare the pits with last week's pictures). Most barely see these at 300 km/h, but we can't deny that the main grandstand gives such a nice shadow.
In my humble opinion, Paulo´s hands on this project should be prized with Mr. Patient Guy 2008! That´s amazing his level of details in this case in particular (gildoorf)